Raynor returns to this week's hero rotation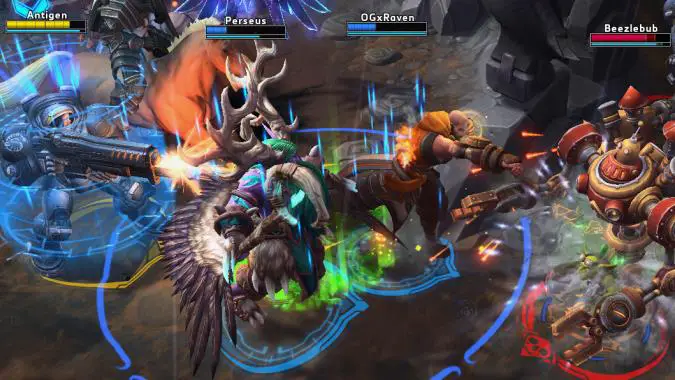 Whether you're excited about the upcoming Machines of War event or the arrival of Zarya and Alarak in Heroes of the Storm, you have some time to wait. Machines of War (with two new maps), Alarak, a free hero for everyone, and (we're guessing) a rework of Valla will go live on September 13 which leaves us with three weeks to wait for new content. That's five weeks after the release of Auriel, the game's latest hero, and a bit longer than the three to four weeks the Heroes team usually sticks to.
In the meanwhile, Auriel will be dropping to 10,000 gold this week, making it a good time to pick up the new support hero if you'd been on the fence… though she is getting a nerf in this week's balance patch due to what the devs considered a strong initial release. Still, this unique support hero is a worthwhile addition to your roster
And, as always, there's a new free rotation to check out… though, admittedly, none of us are that excited by it.

Assassins
Butcher
Lunara (unlocked at player level 5)
Raynor
Matticus: "We're all Raynors now!"
Liz: I'm pretty sure anyone who's been reading our Heroes coverage for long knows how we feel about Raynor. We've all been playing for a while and this straightforward hero just doesn't do it for us.
Thrall (unlocked at player level 7)
Specialists
Murky (unlocked at player level 15)
Mitch: Give Murky a try. He's not on rotation a lot.
Alex: I would follow up Mitch's Murky suggestion with a warning: He has suffered lately. Be cautious if you choose him in quickplay or summat. I find him a whole lot of fun, but there are more heroes now than ever who counter him hardcore. If it isn't Li-Ming or Chromie one-shotting him from the fog of war, it's Tychus or Tracer rendering his pufferfish unusable through an entire match. Seriously, a vigilant tracer means Murky will never manage to get a pufferfish to explode. I haven't played Murky in a long, long time, because he's countered so easily these days. Yeah, Murky dying isn't a big deal… but if your opponents can totally lock him down, that is a big deal.
Zagara
Support
Brightwing (unlocked at player level 12)
Liz: Brightwing is my problematically murderous fav.
Rehgar
Warriors
Muradin
Sonya
Alex: Sonya is bae.
That's it for this week's rotation. With three weeks to wait until Alarak, how are you killing time in the Nexus? We will get a preview of the latest hero on the PTR the week of the 29th, so if you're keen on testing, that's coming next week. And in the meanwhile, fans of other Blizzard games do have the Legion launch to look forward to — and that's certainly going to keep us busy between now and September.