WoW
Jul 9, 2019 6:50 pm CT
Get ready to raid Azshara's Eternal Palace with these handy guides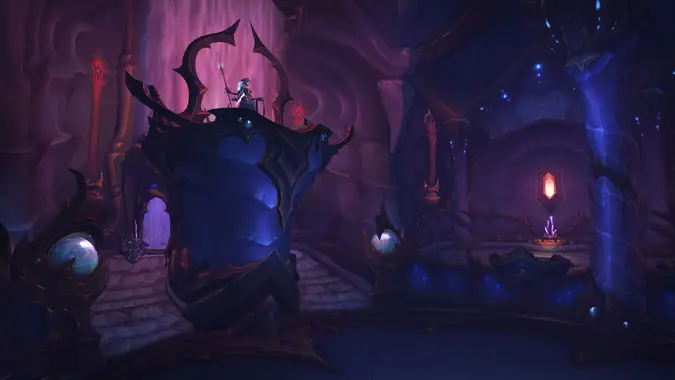 Whether you like detailed guides, minimalist overviews, videos, or even just walking in blind (with maybe a WeakAura or two), the WoW community has worked hard to make sure you're prepared to raid Azshara's Eternal Palace.
Normal and Heroic modes launched today with the weekly reset and next week will bring Mythic mode and the first wing of Looking for Raid — which consists of Abyssal Commander Sivara, Blackwater Behemoth, and Radiance of Azshara. The rest of the release schedule for the following two Raid Finder wings will follow at the end of July and in August.
The first step to raiding is getting into the raid. The raid is located at the north end of Nazjatar and we have a handy guide on how to get to the raid entrance. If you have completed the Turning the Tide portion of the main story after leveling your bodyguard followers, you'll have a flight point that takes you straight there. It gives you the ability to enter the raid through the main whirlpool entrance. There is also a "secret" entrance off to the side, that feels very in line with N'Zoth, if you haven't finished the Nazjatar storyline.
Once you get into the raid, you'll have eight bosses to deal with. The raid is underwater with unique mechanics, but Guest of the Queen gives you the ability to survive without air for as long as you're in the instance.
Commander Sivara
Blackwater Behemoth
Radiance of Azshara
Lady Ashvane
Orgozoa
The Queen's Court
Za'qul
Queen Azshara
Now that you're inside, and you know who you're up against, what do you do? We have you covered! There are a plethora of guides, whether you like the most in-depth guides around or just a quick rundown.
Comprehensive guides
Limit put together a boss by boss guide for Heroic Mode at Azshara Guide, as well as a TL:DR sheet for quick info. They'll be updating the guide as they go to keep it accurate, as well as adding Mythic strategies next week.
Wowhead, as always, has incredibly in-depth guides detailing every mechanic and phase. These are written by FatbossTV and include all the differences from Normal to Heroic to Mythic.
If videos are more your style, Hazelnuttygames does easy-to-understand video guides and has an Eternal Palace guide playlist. FatbossTV goes more in-depth with their guides and cover both Heroic and Mythic difficulties. They generally put out the detailed guides after they kill them on live, and as of right now they only have the Eternal Palace PTR fights up.
Minimalist guides
There are also several variations of minimalist guides if you need a quick overview or refresher.
Google Sheet Guides
Helpful WeakAuras and Addons
Hopefully these guides help you make your way through the raid to finally confront Azshara. If you don't have the patience to wait for progression, or just want to know the lore implications right now, check out the final cinematic for The Eternal Palace and the teaser for what is to come.