BlizzCon 2021 will be held online, and it's coming to a computer near you on February 19-20!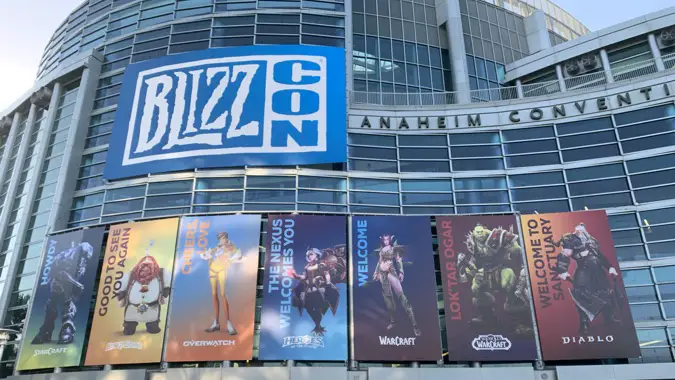 Though we're going to miss BlizzCon 2020, Blizzard just announced that the most wonderful time of the year is back on — BlizzCon 2021 is coming February 19-20 2021!
The announcement from Blizzard is lengthy, for good reason. It begins to address one of the more difficult issues with having BlizzCon online: how to manage the community contests and outreach you'd expect from a BlizzCon. If you're thinking of making your own Jellycat mount to model, the cosplay contest and exhibitions will go on as always, as well the art contest and talent competition — though you may need to stand 6 feet apart from your bandmates when you create your video submission. Blizzard is also making an unofficial show floor tradition into an official community event with The March of the Murlocs. This year instead of parading around the show floor in your best Murlocs duds, they're taking footage of you doing your best Murloc march at home — and they'll be accepting footage of murlocs in-game in case your costuming skills aren't that great. If you want to participate in any of the contests, check the official rules.
Absent from the announcement is any hint of what we might expect to hear officially, but that's really no surprise. Traditionally we won't even see the scheduled panels until right before the show, though we've never let that stop us from speculating before. We'd expect a lot more Diablo 4 footage, more Overwatch 2, and some information about the later patches of Shadowlands at a minimum. The Hearthstone team has also been unerringly consistent about giving us a full roadmap of its trajectory every year (even if it is somewhat shrouded in mystery). But at BlizzCon, never count out the unexpected — we may even see a release date for Diablo Immortal!
As someone who's never been able to attend a BlizzCon, the hype train is on the track. While of course it won't be the same without the Hilton DJ, this allows Blizzard to craft an experience that's far more accessible and universal for those of us who watch from home. This will also be the first time, aside from the WoW Classic demo level, where it's possible people will be able to play at home, too! We can't wait to watch the action with all of you — while typing like our fingers are on fire, as always.