The worst part is that nothing is surprising as Activision Blizzard CEO Bobby Kotick comes under fire for his handling of sexual harassment and discrimination crisis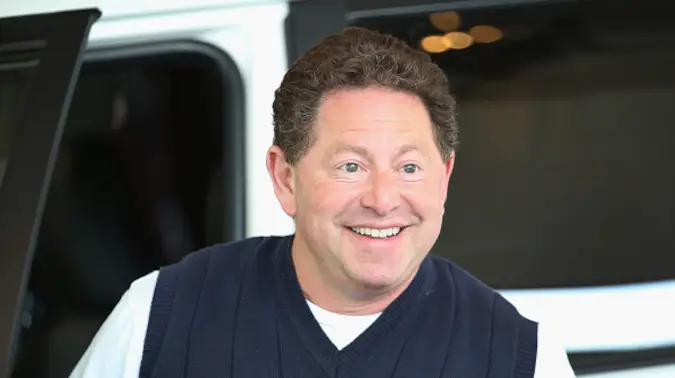 Earlier this year, Activision Blizzard was sued by California's Department of Fair Employment and Housing over allegations of workplace discrimination and a culture of sexual harassment and unfair compensation for women. This began a series of legal and financial problems for the company that has only gotten bigger, more messy, and more complicated as the months have rolled on. There was an internal memo from executive vice president for corporate affairs Frances Townsend that inflamed the employees and led to a walkout, Blizzard's President J. Allen Brack resigned in August to be replaced by Mike Ybarra and Jen Oneal, only for Jen Oneal to resign three months later. Later, CEO Bobby Kotick wrote an open letter that was intended to help calm the situation and show how they're addressing the crisis, but it didn't address all employee concerns — not by a long shot.
Today, the Wall Street Journal ran an article that states in its headline that Bobby Kotick knew far more about the situation at Blizzard, and other Activision studios, than he let on, including knowledge of rape and sexual assault allegations by employees. The depraved indifference that has apparently been standard procedure at Activision Blizzard under Bobby Kotick is now painfully clear.
And thanks to this WSJ, we now know that when Treyarch co-head Dan Bunting was accused of sexual misconduct so severe that the HR department actually recommended he be fired, Bobby Kotick personally shielded him. And Kotick himself is no stranger to terrible workplace behavior — the CEO settled a case filed after he allegedly threatened to kill a woman who worked as his assistant. We also know that Jen Oneal's departure from Blizzard was indeed as bad as we all worried it was. She didn't leave because she happened to have a great opportunity elsewhere, she left because lacked faith in the company's executives to put the employees first, and felt she had been "tokenized, marginalized and discriminated against" at Activision — including being paid less that Mike Ybarra, her co-lead.
Let that sink in for a moment. Jen Oneal was tapped to be one of the two co-leaders of Blizzard in a clear attempt to deflect criticism for the company and its executives. While using her as a sign they were doing right, they still paid her less than the man she was co-leading with. This is a staggering display of grotesquely maladroit leadership. And of course, the board seems to be rewarding it by standing behind Kotick and his astonishing statement today in the wake of the WSJ article:
First, we are incredibly fortunate to have the most talented people in our industry all so committed to constant improvement. And I share this commitment.

The second thing I want to say is that anyone who doubts my conviction to be the most welcoming, inclusive workplace doesn't really appreciate how important this is to me.
I've been staring at this with something akin to wonder. "And I share this commitment." Imagine having overruled your own HR department to keep a man charged with sexual misconduct employed, and then uttering that sentence. Imagine stating "anyone who doubts my conviction … doesn't really appreciate how important this is to me" and expecting it to land well, considering his own history of sexual harassment allegations. Especially when today we find out that, according to the Wall Street Journal, it was Mr. Kotick who wrote the infamously tone-deaf Fran Townsend letter that led to a walkout at Blizzard and launched a protest campaign from Activision Blizzard employees that took months to even begin to be addressed?
People aren't mind readers. We can only judge how important something is to another person by the steps they take to address that thing. Based on what we're seeing today, it is very hard to believe that Bobby Kotick actually thinks it's important to make Activision Blizzard the most welcoming and inclusive workplace, when we now know the woman he appointed to co-lead Blizzard resigned within a month because she didn't believe it. And that's only the latest in a mountain of misconduct allegations.
Looking at this entire mess from five months down the line, it becomes depressingly clear that from the beginning that the priority has been to try and make this go away instead of actually addressing any of the issues, and that this pattern of obfuscation and deflection has been in place for years. Perhaps it even goes all the way back to Mr. Kotick's 2007 lawsuit, which he settled but was then sued by his own lawyers for underpaying them — a lawsuit that he ultimately lost.
The worst part of all of it is how thoroughly unsurprising all of this is. Seeing people harassed, mistreated, underpaid, and gaslit over the years, and seeing the perpetrators who were allowed to remain and continue working despite being reported. We've seen it before. We've practically come to expect it.
Perhaps this time will be different. Perhaps the growing chorus of voices calling for CEO Kotick to resign, the angry investors suing over his lapses in informing them of these problems, the SEC investigation, perhaps we're finally going to see real change. I would be surprised, but I would like to be surprised this one time. There has already been a second employee walkout, organized in the space of a few hours, in response to this latest news and Kotick's brazen attempt to deflect it.
When will it be enough? I couldn't tell you. What I do know is that the latest revelations show a pattern of behavior going back years, and I cannot fathom how Bobby Kotick could remain CEO and move Activision Blizzard through this crisis.
His resignation, or his dismissal, seems to be vital to a better tomorrow for the company. But for now, Kotick seems to remain thoroughly entrenched, with support from the board despite the ongoing legal and PR battles the company is fighting.