It's been 84 days since Activision Blizzard employees published their demands for change, and management hasn't acknowledged them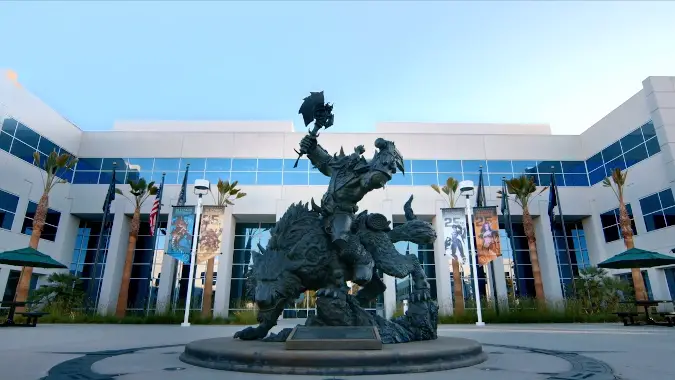 In July, a lawsuit from the California Department of Fair Employment and Housing accused Activision Blizzard of a "frat boy" culture where its female employees were regularly harassed, mistreated, and abused. It's not exactly news that women and minorities are often treated as second class citizens in the male-dominated gaming industry, but the details are particularly egregious and horrifying. It's a symptom of an industry-wide problem where workers are subjected to low pay, long hours, and poor treatment, and I think everyone in the industry and the community has finally had enough.
Shortly after the lawsuit was filed, Activision Blizzard employees banded together to present management with an open letter outlining things that had to change at the company. (And Ubisoft employees have also banded together to demand change at their own company.) Shareholders have filed their own lawsuit and written their own open letter over the company's poor handling of the situation, and the SEC has also started slamming down their own subpoenas in an attempt to investigate whether the company was negligent in not informing their shareholders sooner. The state of California has come down on the company with even more allegations, claiming Activision Blizzard is destroying evidence and otherwise trying to stymie the investigation.
The Equal Employment Opportunity Commission has also reached a rather paltry $18 million settlement with the company, which is already causing controversy. The Communications Workers of America have objected to the settlement, calling the amount "mere pennies" and saying Activision Blizzard has yet to address worker concerns. The DFEH have also objected, because it might hurt its case by requiring employees who accept the settlement to drop further claims against Activision Blizzard — both of which could be big hurdles to California's court case. But the EEOC now claims DFEH attorneys have a conflict of interest and the entire agency shouldn't be able to file anything with regards to the case… which could completely upend California's prosecution.
But despite the fact that one of the major court cases against the company has entered murky territory, this mountain of legal troubles should still be weighing on Activision Blizzard… shouldn't it?
But 84 days later and Activision Blizzard still hasn't addressed employee concerns. Bobby Kotick has promised to make changes, but those changes don't match up to employees' demands — and he's neither acknowledged nor directly responded to the open letter. Blizzard also appears to be cleaning house: J. Allen Brack, Luis Barriga, Jesse McCree, and Jonathan LeCraft have all left the company in the wake of the lawsuit. But still: no direct response to the letter.
More than 3,000 employees signed on to the open letter, which you can read in full below:
To the Leaders of Activision Blizzard,

We, the undersigned, agree that the statements from Activision Blizzard, Inc. and their legal counsel regarding the DFEH lawsuit, as well as the subsequent internal statement from Frances Townsend, are abhorrent and insulting to all that we believe our company should stand for. To put it clearly and unequivocally, our values as employees are not accurately reflected in the words and actions of our leadership.

We believe these statements have damaged our ongoing quest for equality inside and outside of our industry. Categorizing the claims that have been made as "distorted, and in many cases false" creates a company atmosphere that disbelieves victims. It also casts doubt on our organizations' ability to hold abusers accountable for their actions and foster a safe environment for victims to come forward in the future. These statements make it clear that our leadership is not putting our values first. Immediate corrections are needed from the highest level of our organization.

Our company executives have claimed that actions will be taken to protect us, but in the face of legal action — and the troubling official responses that followed — we no longer trust that our leaders will place employee safety above their own interests. To claim this is a "truly meritless and irresponsible lawsuit," while seeing so many current and former employees speak out about their own experiences regarding harassment and abuse, is simply unacceptable.

We call for official statements that recognize the seriousness of these allegations and demonstrate compassion for victims of harassment and assault. We call on Frances Townsend to stand by her word to step down as Executive Sponsor of the ABK Employee Women's Network as a result of the damaging nature of her statement. We call on the executive leadership team to work with us on new and meaningful efforts that ensure employees — as well as our community — have a safe place to speak out and come forward.

We stand with all our friends, teammates, and colleagues, as well as the members of our dedicated community, who have experienced mistreatment or harassment of any kind. We will not be silenced, we will not stand aside, and we will not give up until the company we love is a workplace we can all feel proud to be a part of again. We will be the change.
At Blizzard Watch, we stand with the employees of Activision Blizzard in demanding action.
Updated 10/11/2021