When is the Wrath of the Lich King Classic release date? We're heading to Northrend on September 26, with pre-patch on August 30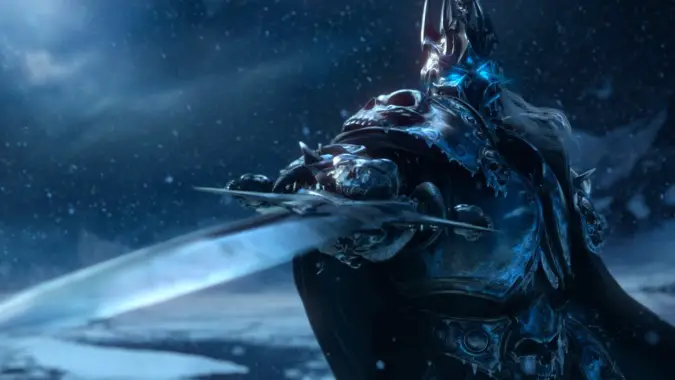 A WoW Classic version of Wrath of the Lich King was only officially announced on April 19, 2022, and we now know we're getting a fairly speedy launch, because Wrath Classic has a September 26 release date. (There's an exact launch schedule if you want to know exactly what time the expansion goes live.) In preparation for the expansion, a +50% XP buff is now live on Classic servers, so existing players can level up those alts and players who want to join the game for Wrath can get a head start on hitting level 60 so they can head straight to Northrend.
For players who are eager to get going, the pre-patch will roll out even earlier, on August 30, with new fresh start realms for players who want to start the expansion from scratch. The Zombie Plague and Scourge Invasion events will also be kicking off in September, before the official launch date, so there will be plenty for players to do while waiting for Wrath Classic. Here's the complete schedule leading up to the September 26 launch:
To set you on the path to success, we've laid out the roadmap of the events ahead.
August 30

Pre-patch Begins: Wrath of the Lich King Pre-patch Launches and Fresh Start Realms go live during regional maintenance.

September 6–13

Zombie Plague Event: A mysterious affliction begins to make its way through the capital cities. Players must be vigilant to avoid falling victim to its deadly effects.

September 13 – Launch

Scourge Invasion Event: In several locations throughout Azeroth, players must coordinate a defensive stand against the attacking Necropolis and defeat Scourge forces to gain powerful rewards.

September 20–October 6

Brewfest Begins: Do you love eating delicious fair food, drinking bountiful beverages, and riding rams around barrels of apples? Partake in activities and timed events to earn Brewfest souvenirs and achievements during this brewtiful holiday event.

September 26

Wrath of the Lich King Classic Launches: At 3:00 p.m. PDT, Wrath of the Lich King Classic will launch, and players are welcome to log in.

October 4 and 5

Arena Season 5 Begins: Season 5 will begin with the weekly reset.

October 6

Naxxramas, The Eye of Eternity, and The Obsidian Sanctum are Available at 3:00 p.m. PDT

Naxxramas, the giant Necropolis and the seat of the dreaded lich Kel'Thuzad, floats over Wintergarde Keep in Dragonblight, eager to aid the Lich King and his deadly machinations.
Located in the center of Coldarra, the Eye of Eternity will challenge players to defeat the blue dragon aspect, Malygos.
Dragonblight is home to the Obsidian Sanctum where players must venture below Wyrmrest Temple to bring an end to Sartharion and his lieutenants, Shadron, Tenebron, and Vesperon.
What's in Wrath Classic?
Wrath was the most popular expansion of the pre-Cataclysm game, if not the single most popular expansion ever. The expansion introduced Death Knights, the game's first hero class, and took us on a journey to Northrend, carrying on the story of Warcraft 3: The Frozen Throne. The expansion has certainly been one of the most anticipated of Classic's history — back when he was still in charge, J. Allen Brack even teased a Wrath Classic expansion when talking about the game's future.
Wrath of the Lich King Classic will run on patch 3.3.5 in terms of balance and class changes, but like previous Classic iterations, game content will roll out over five phases, as well as a pre-patch phase. During the pre-patch, the Scourge will begin their invasion of Azeroth and you'll have the opportunity to level a Death Knight before heading to Northrend. Here's what you can expect from the rest of the game's phases:
Phase 1: Naxxramas, Obsidian Sanctum, Eye of Eternity, Vault of Archavon
Phase 2: Ulduar
Phase 3: Trial of the Crusader, Trial of the Champion, Argent Tournament
Phase 4: Icecrown Citadel, Frozen Halls dungeons (Forge of Souls, Pit of Saron, and Halls of Reflection)
Phase 5: Ruby Sanctum
Still, you should expect #SomeChanges from the Wrath of the Lich King that you remember. Blizzard is aiming to keep Classic feeling like Classic, even if that doesn't match the original game perfectly. Wrath Classic won't include the dungeon finder in order to foster a Classic-style social community, and gearing changes aim to keep people running the most current content.
We'll see how Blizzard's changes pan out this fall, when we venture back into Northrend together. Look for Wrath Classic to go live on September 26, 2022.
Originally published 1/17/2022, updated 9/15/2022