Which old antagonists would you like to see return to World of Warcraft? How should they return?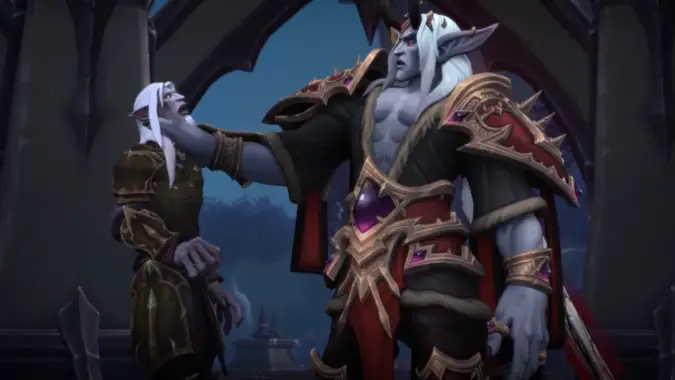 I'll open by stating that Sire Denathrius had the potential to be an extremely relevant antagonist in World of Warcraft, far beyond just the limited influence he had in the Shadowlands. He created the Dreadlords/Nathrezim, who have been running events in WoW lore from behind the scenes for decades at this point — often with major implications. Their infiltration and manipulation shaped everything, from overtaking the Scarlet Crusade to setting Sargeras himself on a different path.
Which is to say that it feels like an absolute waste that the big bad of the Shadowlands expansion was the boring Jailer. I mean, Sire Denathrius was right there! Not only is he much more interesting, in my opinion, but he actually demonstrates having the kind of power and cunning it would take for a villain to manipulate a plethora of major events across the eons, and actually shape the history of Azeroth. In other words, Denathrius would be far more believable in that role than the Jailer ever was. And that's why I want Denathrius to return — to have the chance to prove his potential.
Other than the Sire of Revendreth, we have other candidates for returning antagonist. The Burning Legion is currently in disarray, having lost their leader — the recent Eredar questline shed some light on the goings-on of some of the Legion's followers, as a power vacuum is formed. Could they reform under a new leader? A faithful second-in-command to Kil'jaeden, or a former lieutenant of Sargeras — or some other, more opportunistic party?
Similarly, we've all heard the tale that "there must always be a Lich King." At the moment, the Scourge finds itself as nothing better than endless hordes of mindless undead with little to no chain of command. But what if some force sought to exploit that? Some expert Necromancer, or a Death Knight who grew disillusioned with their recent affairs, or some denizen of the Necrolords covenant come to reclaim what's "rightfully theirs?"
And there are other loose ends there as well, such as Queen Azshara, or our beloved knaifu, Xal'atath. So it's time to turn to you: Whom do you want to see return to the story, taking on a new antagonistic role? How, exactly, would you like to see them do their thing? Which villains of the past are your favorites, to the point where you feel like the story definitely needs more of them?