Four main panels at BlizzCon are free to watch this year, which means big announcements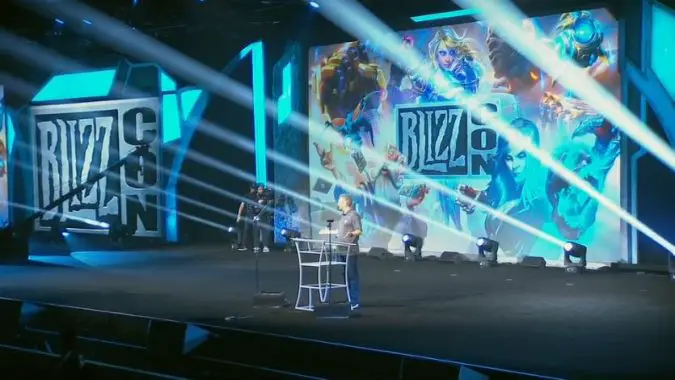 This year, Blizzard has kept their BlizzCon cards close to their chest. We figured it would be a big year already: It's time for another WoW expansion announcement, we've been expecting Diablo 4 after last year's debacle, and Overwatch seems due for a change. But we weren't expecting a schedule with six mystery panels for all their announcements. Four of those panels are following the opening ceremonies on Friday and are on the Mythic stage — the most prominent slots and the most prominent stage. These are always the panels that go into the biggest reveals from the opening ceremony. For the first time ever, those deep dives will be free to watch for everyone.
The free coverage will last throughout most of the day — from 11 a.m. PDT for the opening ceremony to 4:15 p.m. PDT when the final panel ends. If you tune in 30 minutes before the opening ceremony begins, you can watch the BlizzCon pre-show. You can view all the coverage in two different ways, which happen to be the same for people with the Virtual Ticket.
In the BlizzCon mobile app
What this seems to indicate is that they have some really big news to share. News that they want to present directly to players instead of being disseminated through third-party sites.
It could be, as some people think, a marketing ploy to boost Virtual Ticket sales, but the Virtual Ticket has always been about the more "fun" stuff — like the Community Night Contests, voice acting panels, the closing ceremony concert, and of course the in-game goodies. This seems like an extension of the opening ceremony announcements and a way to get the general audience more involved.
It pretty much feels like Blizzard is so invested and excited about their announcements this year that they want to get them in front of as many eyes as possible. This could also get people more invested in the games that are the subjects of the announcements by seeing and experiencing the details for themselves rather than reading about it later filtered through others.
Whatever the reason, making those four core panels free to view is a boon for fans. Tune in on Friday, November 1, to see if the hype lives up to our expectations this year.