How many new heroes will we get in Overwatch 2?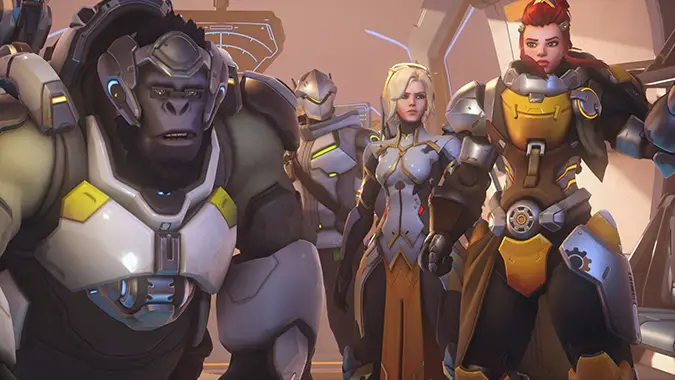 As we close out 2019, we look forward to 2020, where we're certain to learn more about Blizzard's plans for Overwatch 2. There are a lot of questions to ask: how many PVE story missions should we expect at launch? Are we going to have a new season of cinematics to look forward to on the regular? Where the heck is Symmetra?
But since the regular pattern of new hero releases was broken at BlizzCon 2019, the chief question on my mind is how many new heroes the sequel (expan-quel? PVE-quel?) is going to bring to the table.
For your consideration, here's a brief history of Overwatch hero releases:
When Overwatch was first announced, twelve heroes were part of the roster. However, the team also showed off artwork of future heroes who eventually became McCree and Genji.
Prior to beta, an additional six heroes were announced, often (but not always) at Blizzard's various convention appearances throughout the year.
At BlizzCon 2015, three additional heroes were announced, which the team said was the final release lineup. Notably, the addition of these three heroes to the live beta played havoc with balancing for some time, and the devs commented that adding more than one hero at once would be quite disruptive.
Virtually as soon as Overwatch was on shelves, hints began to suggest a new hero in the offing. True to form, about six weeks after the game's release in May 2016, Ana was revealed.
Ana's addition to the game began the pattern that we became familiar with over the subsequent years: Blizzard would announce a hero in the summertime (Ana, Doomfist, Wrecking Ball, Sigma), another hero during the opening ceremonies at BlizzCon (Sombra, Moira, Ashe), and a third hero in the late winter/early spring period (Orisa, Brigitte, Baptiste).
But at BlizzCon 2019, there was no new imminent hero announcement. Instead, Overwatch 2 was revealed with the announcement that newcomer Sojourn will be joining the roster. While yes, all heroes added in Overwatch 2 will be playable without buying the sequel, this deviation from the pattern really got me thinking.
What if part of Blizzard's hype campaign for Overwatch 2 is to do what they did with the first game: announce other heroes before and after the beta begins, and then release them all at once upon the game's release? And in that case, what if Sojourn is the BlizzCon entry in that regular pattern, and we'll see announcements of new heroes in the spring and summer at similar intervals to past announcements? That's at least three new heroes, and based on past instances — McCree and Zarya were revealed together, while Junkrat and Roadhog were obviously a package deal — the idea that multiple heroes could be part of the same reveal isn't impossible. I'd argue we might get as many as nine new heroes in Overwatch 2's launch, though that's certainly at the high end of the spectrum.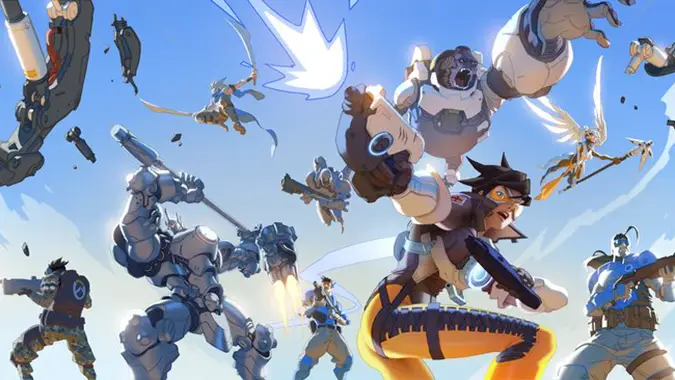 Clearly this isn't imminent new content like a hero or map announcement — from announcement to PTR to live servers it's typically been a one to three month process) and it might not assuage players who are concerned that a roster that isn't getting an update every quarter is at risk of stagnation. But in terms of keeping players hyped for the ongoing development of Overwatch 2, using the tactic that worked so well for the first game is a proven idea.
Of course, it's possible that Blizzard has no intention of doing this. Blizzard's attendance at conventions that aren't BlizzCon isn't the same as it was during Overwatch's development cycle. Even if they're just doing hype via social media tactics (which was the method for Soldier: 76, Lucio, and Junkrat and Roadhog) it may not be as effective now as it was then, with the landscape of early-access games and fast-turnaround content drops from competitors like Fortnite and Apex Legends.
Finally, I imagine most players don't want Overwatch 2 to cook as long in development as its predecessor did — which, all told, was still a pretty speedy 18-month cycle from announcement to release (okay, that's fairly speedy for Blizzard). That said, even if it's only been two months since BlizzCon 2019, I know I'm chomping at the bit for more news about what's coming.
How many heroes do you think we're getting in the Overwatch sequel? Tell us in the comments.