WoW
Jan 30, 2020 9:30 am CT
We're two days into the Ny'alotha World First race and 9 bosses have already fallen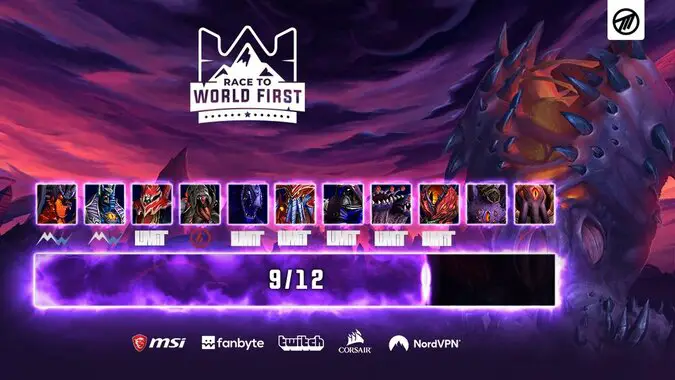 The final Mythic race in Battle for Azeroth has gotten off to a roaring start. Guilds all around the world have charged headfirst into the madness of Ny'alotha the Waking City to brave the horrors of N'zoth. Due to the time difference between when North American servers and European servers get their patches Limit has already completed two full days of raiding and will be starting their third day of raiding soon while Method and Pieces are almost done with their second day. But competition is fierce and there are already several guilds tied in progression behind Limit.
As always the work that these guilds have put into being Mythic raid ready is amazing. Raiders spent much of the last two weeks squeezing every lost drop of Azerite Power out of Island Expeditions and World Quests to boost the level in their Heart of Azeroth as high as possible — many of them already reaching level 80 before Mythic even opened. They've been running multiple Heroic raids using as many classes of the same armor class as possible to maximize the gear that could be funneled to their main raiders. Guilds have even been buying as many Bind on Equip items as possible to try and get the optimal Corruption effects.
But N'zoth still looms in the distance for all of the World First hopefuls.
On their first day of raiding Limit, Pieces, and Method each got seven kills. Dark Inquisitor Xanesh proved the biggest stumbling block because of her soccer-like mechanic. Teams of players would have to bounce a giant orb of void energy around her arena without touching any of the obstacles, a challenging feat of coordination.
Still, there haven't been any bosses in the first half of Ny'alotha that managed to hold any guild up as long as Lady Ashvane did in Azshara's Eternal Palace. This is mainly due to how flexible the middle of the raid is: once you get past the first three bosses your raid can choose to tackle the middle seven in almost any order, letting them fight the easier bosses first.
As always Brewmaster Monks have proven to be the standout tank with their ability to mitigate giant incoming hits with their Stagger ability. On the healer side of things, most groups have been running with Priests and Paladins. Although the occasional Restoration Shaman has been creeping in — the utility they can bring with Spirit Link Totem has proven too strong to ignore. The damage classes have all been fairly spread out, although Affliction Warlocks and Havoc Demon Hunters have proven to be in high demand.
The most interesting development on a strategy front is that Limit's raid leader Max has been raid leading from outside of the instance, at least in some fights. With how complex the fights can be playing your character at the level required to get World First kills while making sure that the fight is being controlled is extremely difficult. Being able to watch all of the different streams from his raiders allows him to focus on making the right calls. I'm wondering if we'll start to see other guilds adopt this strategy and have their own coaches making calls for future world first races.
Limit continued to put their head start to good use on the second day racking up two more kills — Ra-den and Drest'agath both fell to the guild. Ra-den proved to be the biggest wall so far. He got a set of updated mechanics from the last time we saw him in Throne of Thunder and he's putting them to good use. Limit had a strategy that was working for them and even managed to get Ra-den down to 9%. But a surprise hotfix from Blizzard changed how one of his mechanics worked with immunities like Divine Shield or Ice Block. Limit lost a few hours of attempts but still managed to be the first ones to bring him down. Method has gotten close to beating Ra-den but will still have to clear Drest'agath before catching up to Limit on Il'gynoth.
Pieces has chosen to play their cards incredibly close to their vest this race. The guild streamed their progress during Azshara's Eternal Palace alongside Method but after their lackluster performance, they're focusing just on their raiding rather than streaming or sharing strategies. They have been posting their pull counts and they're proving to be very competitive with the ones put up by Limit and Method.
Ily'gnoth is all that stands between Limit and N'zoth. We've seen Limit have the lead before — will this finally be their race to win? Or will Method take the lead as they head toward N'zoth? I can't wait to see if there's a method to their madness or if all these raiders will fall to pieces. N'zoth and his secret final phase are waiting to test these raiders to their limits.