The Queue: Two years!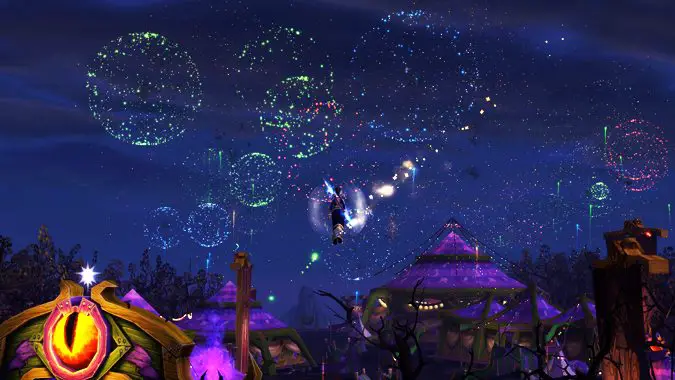 I've been writing for Blizzard Watch for two years!
Well almost. My actual two year anniversary is on Friday, but I totally spaced on it and didn't even think to ask if Liz would switch with me for the sake of symmetry — that's my bad. Still though, two years! Where has the time gone? It feels like just yesterday I was writing about the Battle for Azeroth launch. I'm still writing about the upcoming expansion launch, but now I have over 200 articles to my name!
A huge thank you to Liz and Adam for hiring me! Thank you to Mitch, Anna, and Liz for being such great editors who make my words into better words! Plus, everyone else who writes and streams for us for being just the most approachable nicest people to have as coworkers. And a special thank you to all of the readers and patrons of Blizzard Watch for helping to keep the lights on — you all rock!
Now before I get too emotional — 3…2…1… let's Queue.
---
RJAGODA COME
What is your favorite article you've written so far? 
How can I pick just one?! They're all special to me in their own ways. Do I choose my first one about how Blizzard translated Daughter of the Sea for different regions? I admit to losing a bunch of time just now relistening to a bunch of those. How about the time Laura Bailey sang Daughter of the Sea live at BlizzCon? Or do I choose something silly and fun like the gallery of my favorite skulls from across Zul'dazar?
I really enjoy all of my writing about Heroes of the Storm. Especially the one about Mei joining the Nexus. Although, that has more to do with getting to know the secret before everyone else did. That was a fun weekend, I suggested Sindragosa was really the next hero to so many different people.
In the Off-Topic section, I've gotten to write about some of my favorite podcasts on a couple of different occasions and I'll always take any excuse to recommend a new podcast to someone. There are so many great ones! It might be time to bug Liz to see if I can do another installment. I also got to write about Celeste, my favorite game about climbing a mountain, and Avengers and Star Wars!
Or my Breakfast Topics! Who can forget how do you think the different things smell in Blizzard games. Or the two I wrote about BlizzCon while I was literally sitting in the airport on my way to, and from BlizzCon?! Those are definitely special — I was going to BlizzCon!
This was a fun trip down my post history, but I could list a bunch more and still have barely scratched the surface. If I choose just one would have to be the first Queue that I wrote. I know it's a little sappy, but I do love getting to be one of the Queue writers and interacting with all of you week to week. It's been super fun!
---
RJAGODA GO
What would you like to write about but haven't yet? 
Oh man, I've been really lucky in that most everything I've wanted to write about I could. Seriously, Liz is the best. The only thing that I've really wanted to do that I haven't really gotten the chance to is an interview. I'd love to be able to have a great conversation with the people who are involved with the games we love. It's tough though since I'm not on the main podcasts. But maybe someday! I'd also love to be on the podcasts more, but Matt and Joe have such a great dynamic that I wouldn't want to mess things up.
---
MEDRAUT SEE YOU SPACE COWBOY
I'm tying myself in knots trying to work out what races to make my last Horde characters on retail. On the one hand, I want them all. On the other hand, I don't really want to double up on classes too much. Do I want more variety, or do I want to make more Mag'har because they're great?
I'm a bit biased, but Zandalari Paladin or Druid. The Paladins get a Holy Triceratops for their mount, and the Druids get Dinosaur shapeshift forms. What's not to like?
I'm also a fan of Orc casters. They're so buff and so magical. Imagine them going to the Academy and doing push-ups while learning proper wand postures. Amazing.
---
THE SLEEPING CAPTAIN CAKEWALK THE HOOT-HOOT
Q4tQ: What are you most looking forward to from what we have seen in Shadowlands? There is a ton of things I'm looking forward too and one of them is definitely getting some of my old spells/abilities brought back. 😀 
I'm really looking forward to getting Rage of the Sleeper back for my Bear. It's going to be one of the four Guardian Druid legendaries. It was my favorite Legion Artifact power, and I've missed it every day in Battle for Azeroth. Getting that sweet Death Elemental mount will be cool too.
---
KALCHEUS THE FLUFFY SEE YOU SPACE SAMURAI
Q4tQ: Looking past Shadowlands, where do you want the followup xpac to take place? A new place on Azeroth, a revampled old place on Azeroth, out in space/another world, a different time on Azeroth, etc.? 
Ideally, I want another magical world out there in the universe somewhere. But we don't take a space vessel to get there, lets go be explorers with the Dark Portal. Or a new not-so-Dark Portal, y'know without all the souls powering it. Khadgar could've been working on one the whole time we were dealing with the problems of the Shadowlands.
Let's go and poke around a new planet. It could be lots of fun! Until we royally piss off the denizens of that planet and they chase us back through the "I can't believe it's not the Dark Portal". Which leads right into the next expansion where we have to deal with them invading Azeroth.
---
JALAMENOS YOU'RE GOING TO CARRY THAT WEIGHT
Q4tQ: How many level 60 players (with level 60 raid gear) would it take to kill one level 120 player (with normal-heroic raid gear)? 
Assuming you're playing on a magical server that never lags no matter how many players are on screen. 
I've seen a level 40 Paladin get overwhelmed and killed by an endless stream of level 1-3 Tauren so it should be possible, even if it'd take a while and a lot of the level 60s would perish. 
I was told there'd be no math.
But I don't know if it's possible. My mage hits for 8,000 damage with a Flamestrike and a level 60 player has roughly 4-5 thousand health. I'd be crisping whole swathes of them every 2 seconds. I'm thinking that you couldn't do it with less than a thousand players, and that's assuming that they're trying to kill a class with absolutely no self-healing. If the 120 was a tank there'd be no way they die to less than ten thousand players. If they're killable at all.
Today's Anna Earworm™: Tank
Make sure you leave Anna lots of questions for tomorrow! Have a great week everybody!