WoW
Jul 12, 2018 8:48 pm CT
You officially have less than a week for the Mage Tower appearances — patch 8.0 launches July 17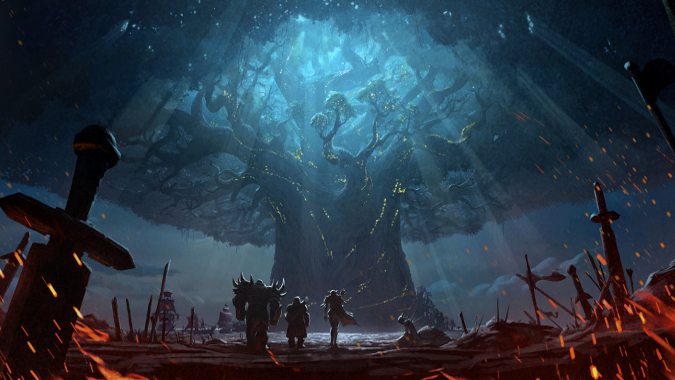 Well, this is it. Battle for Azeroth's pre-patch, World of Warcraft 8.0, is coming next week. NA servers will go offline the morning of July 17, and when they come back up, we'll be in a completely different world (of Warcraft). Like most pre-patches, patch 8.0 is bringing a lot of changes. So many changes, in fact, that I can't guarantee the following list is comprehensive — but it should cover a lot of the important bits.
So, what are we getting (or losing) on Tuesday?
No more Artifact anything

All of your Artifact Traits will be gone, but relics will still add to the weapon's item level

Profession updates

A.K.A., the removal of First Aid

The introduction of the new War Mode PVP system
Pre-expansion content that will only be available from July 17 until the launch of Battle for Azeroth
Cosmetic updates to certain races
Legacy loot changes
The removal of Ahead of the Curve, Cutting Edge, and the Chosen achievements
Cinematics!

A.K.A., be very careful of spoilers popping up

Pet Charms are going away
And, of course, the end of the Mage Tower challenges
Blizzard posted their own rundown of the important changes in a Survival Guide video:
One thing to note: The Violet Spellwing from defeating Argus the Unmaker on Heroic difficulty or higher is not gone on Tuesday, but will be removed with the launch of Battle for Azeroth proper.
So, are you ready for Tuesday? Did you get everything done that you wanted to get done before 8.0? Are you going to miss Knaifu as much as I will?* It feels kind of crazy to me that we're already here, but hey, I'm not going to complain about not actually feeling a content like we've had a real drought for the first time in forever.
*Heck no you won't.