WoW
Nov 28, 2022 5:00 pm CT
Is Dragonflight live yet? Yes! The expansion is here and the servers are sort of, mostly, maybe stable-ish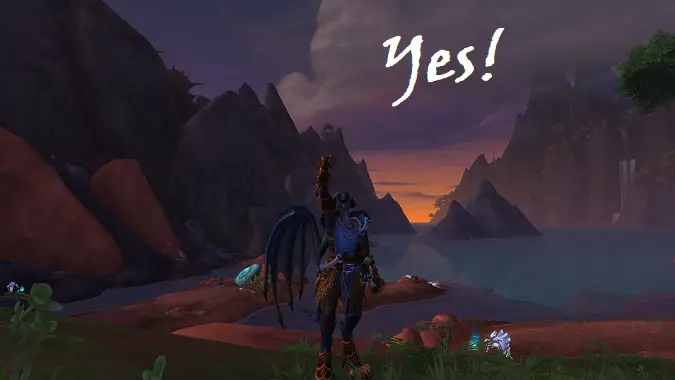 Get ready to board a zeppelin or boat, for today the latest World of Warcraft expansion Dragonflight has gone live! For the last few weeks we've been leveling alts, creating Dracthyr toons, and fighting off the mean Primalists who have stormed the Eastern Kingdoms and Kalimdor, but now it's time to take the fight to the Dragon Isles, because Dragonflight launched at 3pm PT/11pm GMT. The servers are all live, though expect slow loading screens and a few "Transfer Aborted: instance not found" errors as you try to get around.
While the major endgame activities won't unlock until the first reset (and the raid doesn't open until December 13), there's plenty to do on our character's journey to level 70… if you can get to the Dragon Isles in the first place.
There's a lot to look forward to in Dragonflight. Dragonriding is a feature that's been getting a lot of attention, including a full cinematic showing it off. The zones are beautiful — check out our galleries here, here, here, and here — and there's plenty of new wildlife to slaughter for xp or tame to use alongside your hunter as well as the long-awaited arrival of ducks. The crafting system is getting a big overhaul with the addition of stations, quality, and the most important game aspect of all: transmog.
The time the expansion launches will also start the clock on the second Twitch drop promotion for the Feldrake mount as well as the Ichabod pet promotion, so even if you're unable to log in (due to queues or other plans) you should be able to start earning the mount by having a stream tuned into it. Of course, if downtime or crashes happen at go-live time than the eligible streams may be unavailable as well, so we're all keeping our fingers crossed that the launch goes off without a hitch. We'll update this post with any news impacting the release of Dragonflight so stay tuned to Blizzard Watch today for all your expansion news, and enjoy the trek to 70!