WoW
Sep 11, 2023 6:30 pm CT
Everything in WoW patch 10.2: Guardians of the Dream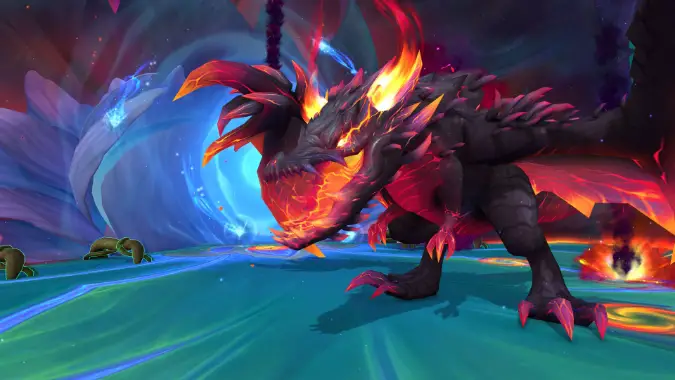 We're finally heading into the Emerald Dream in WoW patch 10.2: Guardians of the Dream. This will be the game's last patch for 2023, and it's a big one, with the new Emerald Dream zone, Amirdrassil the Dream's Hope raid, Dream Wardens faction, Mythic+ rotation, and a new Legendary weapon to earn (at least for some of us).
Patch 10.2 is live on the PTR right now, and though it's early days for testing, we're learning new things about the patch every day. But for everyone who can't keep up with the constant changes on the test realm, here's a rundown of the major features in patch 10.2:
The Emerald Dream zone. Get in losers, we're going to the Emerald Dream. Fyrakk has his eyes set on the new World Tree, Amirdrassil, which has been growing in the Dream. Now he's invading with a cadre of Druids of the Flame (remember them?) and… are we really going to burn down another World Tree? Fyrakk intends to try, anyway. In the meantime, expect the standard new late-game zone packed with activities, including three new world events.
Amirdrassil, the Dream's Hope raid. We were just talking about the new World Tree, and here it is. In this nine-boss raid, we'll take on Fyrakk's new allies, culminating in a battle against Fyrakk himself. The raid will include new class sets, and we already have details on the upcoming set bonuses.
Fyr'alath, the Dream Render Legendary axe. Though we don't yet know how Fyrakk got his hands on this powerful weapon — or how we'll get our hands on this powerful weapon — we do know that the new Legendary is a strength-based weapon for Death Knights, Paladins, and Warriors. Apologies to all of the other classes who hoped they would finally be getting a Legendary.
Three new world events: Superbloom, Emerald Frenzy, and Emerald Bounty. Not one, but three new events will arrive in patch 10.2, and they tie together in an interesting way. This event chain starts with Superbloom, in which you escort an Ancient around the Emerald Dream. Then during Emerald Frenzy you'll fight off waves of frenzied flora. Finally, in Emerald Bounty, you can plant seeds to grow a sapling, with rewards based on how many players nurture the sapling as it grows.
The Dream Wardens faction. I hope you like Renown, because we're getting a new Renown faction in the Dream Wardens. Made up of Green Dragons as well as Keepers, Dryads, Runebears, and (of course) Druids, these are the defenders of the Dream — and they're going to need our help to protect it from Fyrakk.
Season 3 Mythic+ rotation. I hope you're ready for a challenge, because some of these Mythic+ dungeons are going to be rough. Season 3's Mythic+ dungeons are: Dawn of the Infinite: Galakrond's Fall, Dawn of the Infinite: Murozond's Rise, Waycrest Manor (Battle for Azeroth), Atal'Dazar (Battle for Azeroth), Darkheart Thicket (Legion), Black Rook Hold (Legion), The Everbloom (Warlords of Draenor), and Throne of the Tides (Cataclysm). No word yet on affixes during Season 3.
Class changes for everybody! Mostly everybody. Blizzard plans big changes for healers, toning down AOE healing and raid cooldowns, nerfing mana regeneration abilities, and buffing single target heals. Other classes are getting a grab bag of changes, so take a look at the full patch notes to see what's in store for your class.
Regular flying is coming to the Dragon Isles. Though you'll have to complete a Pathfinder achievement which spans all expansion content, you'll finally be able to ride ordinary flying mounts in the Dragon Isles.
Faerie Dragon customizations for Dragonriding. We can bicker over whether this counts as a "major" feature, but these new Dragonriding skins are amazing. You can also collect a Fyrakk appearance as well as a couple of new Netherwing colors.
Great Vault improvements. The dungeon track of the Great Vault will now count Heroic dungeons, Mythic+0 dungeons, and Timewalking dungeons for Vault progress, which should open up extra loot for more casual players who don't chase high-end Mythic+ content. And for raiders, it will take fewer boss kills to unlock Vault slots. It's perhaps not the amount of change some players were hoping for, but I think these are good changes nevertheless.
Upgrades to the upgrade system. Good news everyone! The Crests required for gear upgrades are now a currency and won't take up inventory space. You'll also be able to upgrade Crests to higher level Crests if you've maxed out your upgrades with that level Crest.
New customizations. Druids appear to be getting quite a few new form customizations, including new Moonkin forms — great news for Balance Druids who have been stuck in the same old form for most of the game. Blood Elves are getting new hair colors. No word on new Heritage Armor for the few races who still don't have theirs (sorry Trolls).
And that covers patch 10.2, which is expected to be the final WoW patch of 2023. Blizzard has been cagey on whether 10.2 will be the final patch of Dragonflight, but I'm holding out hope for a patch 10.3 some time in 2024.
We don't yet have a release date for patch 10.2, but it's likely to go live in November, perhaps shortly after BlizzCon.
Originally published February 3, 2023; updated September 13, 2023