Heroes of the Storm free hero rotation and sales for November 24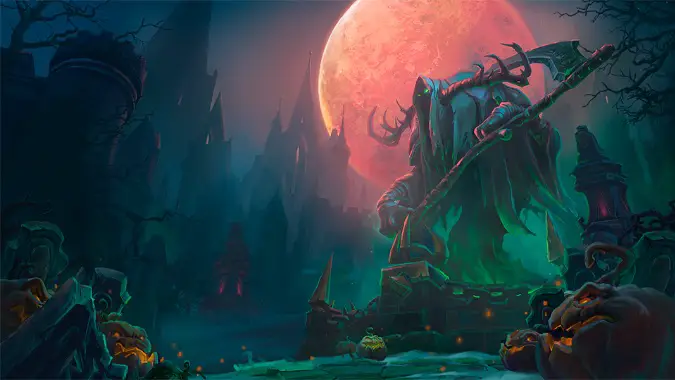 It's that time of the week again. Heroes of the Storm discounts many heroes and skins as well as rolling out seven new heroes you can play for free during the week — though with a holiday weekend in the States this week, the Nexus may be a bit quieter this week, at least for North American players. However, for those of you who are going to be in game, we've got recent hotfixes for Cho'gall — though it felt like his roll-out was pretty smooth as far as new heroes go, especially considering his unusual gameplay mechanics — and we'll be seeing the brand new Towers of Doom map this week according to @BlizzHeroes.
Now, let's check out an overview of Towers of Doom (for those of you encountering it for the first time), a haiku from Mitch, and, of course, the weekly rotation and our thoughts on it.
Now, for a brief haiku from Mitch. (Why so much less poetry this week? Because everyone wants to play Legion, that's why.)
Falstad flies around,

Nazeebo traps with zombies,

Uther saves your life.
Now on to this week's free heroes:
If you need a starting point, check out our Assassin guide, Specialist guide, Support guide, and Warrior guide for quick rundowns on each hero.
If you're in the market for new heroes or skins, in place of the regular weekly sales this week Blizzard is holding a massive Black Friday sale in which all heroes, mounts, and skins are a staggering 50% off — so if you were waiting to pick up anything in the Heroes store, now's the time. It's unclear, however, whether this sale — or something else — will extend to EU players. The regular European sales thread says only:
We will not be launching a new round of weekly sales for November 24 to December 1. Instead of weekly sales, we have a small surprise planned for everyone.
We'll keep our eyes open for more details, but in the meanwhile let's dive into the team's thoughts on this week's lineup:
Dan D.: Pretty vanilla rotation, but the real question is how do these older heroes stack up against Cho'gall? I haven't been able to tear myself away from Fallout 4 long enough to get to know either Cho or Gall.
Alex: Kerrigan remains one of my favorite heroes. I've mentioned it in previous weeks, but she's one of those heroes where you might feel totally ineffectual the first few times you play her, but once you figure out her combos and how her abilities work, you become a force of destruction. Pulling off a chain of kills with Ravage feels so, so good.
Mitch: Kerrigan is another really fun assassin that is a bit of an odd case for me. I don't own her, but I absolutely love playing her every time she's on rotation. She's relatively easy to pick up, but a little harder to master. And if you kill someone with her leap ability, it's very, very satisfying.
Matticus: What is this, competitive hero week? Jaina, Falstad, and Raynor give you access to killing machines. Nazeebo can set you up to take down opposing heroes. If you're feeling the light, you can select Uther instead. He's fairly simple to pick up and play especially if you're the last person on the queue list and there's no other healer available. Muradin can turn into beast mode in a match and disrupt the heck out of the opposition like few other heroes can. This is going to be a brutal week because there's no real wrong answer to any of this week's free heroes (and I still remember free Lost Vikings week).
Anna: This rotation is super solid, and because it's so solid we've seen all these heroes again and again. Really the one new thing is the fact that Falstad's pirate skin is incredible.
Alex: Yeah this rotation is like… standard tournament comp week. They're all strong, solid, competitive heroes with nothing particularly unusual thrown in. They're all straightforward.
Anna: I can only bat my eyelashes at Jaina so many times. That's a lie, she's the best. But still.
Alex: Maybe they're intentionally stacking simple characters for anybody who's new to the game during the holiday. Give them a bunch of characters they can pick up no problems, entice them into spending all of their money.
Mitch: Raynor is super easy. He's on free rotation a lot, but he's a good starter hero if you're new to the game.
Alex: There are a lot of good Falstad players out there, but he's never clicked with me. Jaina, Raynor, and Uther are all super strong heroes, with Uther in particular consistently rocking out in competitive play. Nazeebo is just plain fun and, like many Specialist heroes, is a total powerhouse early game.
Anna: On the squishier Heroes this week (Jaina), you're going to want to be more careful early game (Jaina) because of the system-wide tweaks to scaling and death timers (Jaina). Actually, that whole change was one of those tweaks that I think may shake up the meta as a whole.
Liz: I don't care, I'm still playing Winter Veil Jaina all week.
Mitch: Jaina is a heck of a lot of fun — she is a very strong Assassin but can also be really squishy. Holiday Jaina has a snow man if you choose the ice elemental ultimate, which makes it worth it all on its own. My biggest issue is over extending with Jaina — keep that in mind, be ready to strike, and watch as she melts faces… with snow.
This week's freebies and sales should go live on Tuesday afternoon at 2:30 PST / 5:30 EST — until then, we'll see you in the Nexus!