This holiday week brings a new hero rotation and little else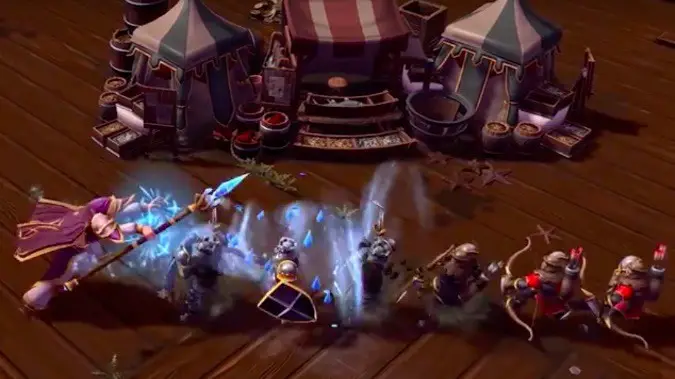 It's that time of the week again: Heroes of the Storm's free hero rotation has rolled out another 10 heroes for you to play for free this week. It's a slow holiday week in the Nexus with nothing in the way of new content, though we still have the Winter Veil event and the Black Friday sale ongoing for both North American and European servers, offering all heroes, skins, and mounts at half off through the end of the year.
If you're looking for something new and exciting this week, it's just not here. But there's still a list of new heroes to play for the week so let's dive in to the week's rotation, the team's thoughts, and our regular efforts at poetry.
As usual, we'll kick off this week with a poem from Mitch:
Gather round, grab a beer chair,
Another week in the Nexus is here!
Disrupt enemies with warriors Johanna and E.T.C.,
Or gank with this week's Assassins and prevent a quick flee.
But if healing be your forte,
You have the gamut of Support heroes this week to play!
Lest we forget, you've still the choice of Gazlowe or Nazeebo,
Two Specialists who can help bring an enemy's health quite low.
Good luck to you heroes, go HAM on that core,
We'll see you next week for even more!
And now here are this week's free heroes alongside the team's commentary:
Assassins
Falstad (unlocked at player level 7)
Illidan (unlocked at player level 15)
Mitch: Definitely a hero that can annoy people, but not in a fun way. If you've ever read my thoughts on him before, you'll notice a theme: he has multiple movement abilities (Dive, Sweeping Strike, The Hunt, and Metamorphisis) that I warn you against using and getting stuck behind enemy lines. On top of that, Metamorphasis lets him move across the map — it should be used carefully and only if you're sure you've got backup and/or not being set up for a gank. Illidan is a free hero a lot of players bemoan because he is a bit tougher to master and is easy to overextend with.
Alex: Basically all those abilities can be used in really dumb ways because Illidan is very good at getting himself trapped behind enemy lines and murderized. Someone who is good with Illidan can be scary with all of these abilities. Brand new over-eager Illidan players will get themselves killed over and over and over again.
Matticus: He's a great Assassin in the hands of someone who knows what they're doing or with a coordinated team that can provide cover or escape.
Anna: Right now I'm playing Jaina heavily, working on getting her to level 10 with my holiday stimpack bonuses. She's very squishy, but her combos are very strong and her zoning capability is, too. If you're on a map like the new Towers of Doom with a capture objective she can turn the tide of battle easily with high-damage AOE. She's one of two heroes who is pretty much always either banned or picked in the current competitive scene (the other being Uther, who is also on rotation this week). Jaina takes good lane positioning and map awareness to be truly effective, because otherwise she may just get routed by other Assassins or Specialists. Of others on the rotation, be mindful of Illidans especially, but Falstad and Nazeebo as well.
Mitch: If cannons shot ice, Jaina would be a glass cannon. If you've never played an Assassin, she can take getting used to because of how squishy she is. But she clears AOE groups insanely fast and can deal incredible amounts of burst damage. Just watch that you don't overextend with her… play enough games and you'll get the hang of your safe range.
Specialists
Gazlowe (unlocked at player level 5)
Mitch: I'm still waiting for my Gothik the Harvester skin for this guy. Other than that, I haven't bought him because he's free a lot, but I have genuinely enjoyed him when I've played. His zombie wall can be a huge boon to your team — or it can trap your teammates and get them killed. Be careful and always remember you can cancel it early.
Support
Mitch: You spam her abilities and they hit things. She's a pretty newbie-friendly healer as long as you hit buttons.
Uther — check out our guide to Uther
Tassadar (unlocked at player level 12)
Rossi: Tassadar because he's freaking Tassadar. My life for Aiur.
Mitch: Less of a healer than most support, Tassadar is a bit of an oddball. I enjoyed him for a while and then Kharazim came along and he seemed just sort of okay. He's still fun, but.. I don't really know, my interest level in him has been low lately. It's super, super fun to troll friends with FORCE WAAAALLLL, though, because it blocks them off and they'll yell at you and okay don't do this but also maybe give it a shot once or twice.
Warriors
Mitch: Maybe the only Warrior I don't own. Not that he isn't great, but he's just fairly generic to me. He can be fun and I know a lot of people enjoy him, but I just don't have much interest in him.
Johanna — check out our guide to Johanna
Alex: Johanna is one of my favorites. Not only do I love her as a character, but her kit resonates with me in ways other tanky characters in Heroes of the Storm don't. While playing Johanna, I always feel in control. I'm leading the charge into battle, I feel compelled to be the one to call a retreat, and I'm the last to leave because I can survive covering squishier butts so they can make a safe escape. Something about her toolset instills you with confidence — which can also cause overconfidence when you're pretty sure you can survive baiting a wombo combo from the opposing team and it turns out you definitely can't.
Mitch: Really love to play her and hate to go up against her. She is so freaking strong in terms of survivability if you talent her well. She's not always the most offensive tank as far as damage is concerned, but she is disruptive and very durable.
Also, while not on rotation this week, everyone is still talking about Lunara, the game's latest hero. You can check out our guide to Lunara and read through the team's opinions below:
Dan: I'm starting to warm up to Lunara.
Mitch: I was surprised by how much I enjoyed her.
Dan: I've found her Vines to be wonderful harass on the Towers of Doom altars. I was able to hold off four enemies from afar until my team could get there, twice. I suppose the same would work for the Raven Lord map.
Mitch: Yeah, Vines definitely has more use overall and can be awesome, but but the Leap is a hell of a lot of fun to get a kill with.
Dan: I just wish her DOT would stack in damage, not just duration.
Mitch: Even still, it does a crap ton of damage.
Anna: I love Lunara, but then my favorite champion is Teemo so it's a natural fit. Poison everything.
If you need a starting point with any of these heroes, check out our Assassin guide, Specialist guide, Support guide, and Warrior guide for quick rundowns on each hero. This week's freebies should be going live this afternoon, so jump online to take advantage of them. And, as always, we'll see you in the Nexus!