Heroes of the Storm free hero rotation and sales for September 15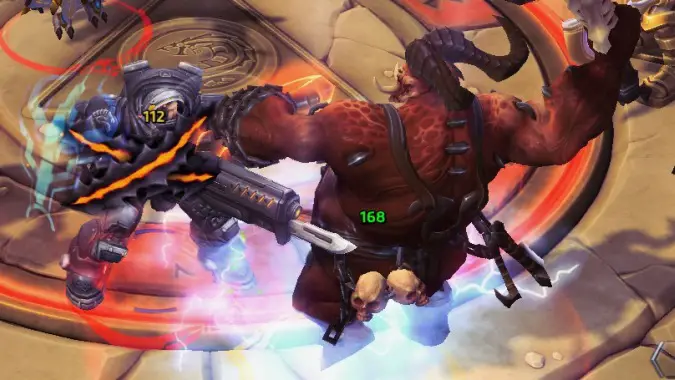 Every week Heroes of the Storm has some heroes you'd usually have to pay for that you can play for free in the free hero rotation, plus a number of heroes and skins on sale in the weekly sale. It's a great way to try out new heroes without committing to buy, as well as grabbing new heroes, skins, and mounts at bargain prices.
Let's kick off this week's new rotation with a haiku from our resident bard, Mitch:
Sonya, warrior
Plays more like an assassin,
But still pretty fun.
Featured Hero is still Rexxar, who costs 15,000 gold or $9.99 USD. If you can wait until next week, his price will drop to 10,000 gold. His reception has been mixed due to his unique playstyle and is currently only used in 16% of games according to HotSLog.com.
Now, on to this week's free heroes:
If you need a starting point, check out our assassin guide, specialist guide, support guide, and warrior guide for quick rundowns on each hero.
If you're in the market for new heroes or skins, here's what's on sale this week:
Our team had some thoughts on this week's free line up:
Anna: Arthas is suddenly seeing a lot of play in ranked matches, largely due to the double (and now triple) warrior comps favored by the Koreans. If you haven't tried him out recently, he may be worth another shot.
Dan: To back up what Anna mentioned, check out this sick gank duo of Arthas and The Butcher:
Mitch: Nazeebo is a great intro to specialist classes, imo. Zombie Wall is great at both trapping enemies to nuke down or to run away from, and most of his attacks are ranged. The first time I played him I was relatively surprised by how fun he could be. [Dan adds "He's also great for learning how to 'zone' opponents by using his Zombie Wall to either keep other players away or trap them to give your teammates time to catch up."]

Arthas is a slow warrior, but his freezing can be great, especially early game. Hide in the bushes while your teammate nukes, freeze as the enemy is running, finish 'em off.

Butcher is all about the meat and knowing when to attack and when to hold off. Late game, he can just tear through towers with melee that hits incredibly hard. The trick to countering him is to run when you get is Death Brand (or whatever it's called) on you. Denying him his healing means he'll likely die.
Li Li is on free rotation very often. She's a really easy beginning Support class since most of her abilities aren't targeted. Just spam her heal ability and you're basically doing half your job already.
This week's freebies and sales should go live on Tuesday afternoon at 2:30 PST / 5:30 EST — until then, we'll see you in the Nexus!