The Lost Vikings return to the hero rotation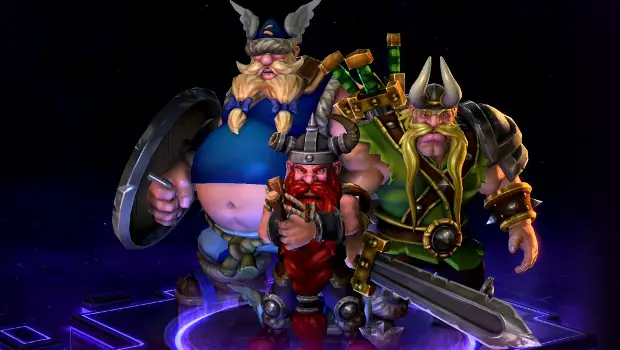 It's an all new week in Heroes of the Storm, which means we have a fresh weekly hero rotation including a surprise: the Lost Vikings, who haven't been on the Heroes rotation for 38 weeks. That's right, we haven't seen the Lost Vikings since before Heroes was launched. Of course that means that we all dread the influx of new Lost Vikings players making a mess of games all week.
Is this Blizzard's way of celebrating their 25th anniversary? Does this mean Heroes is actually Lost Vikings 3? We may never know. But in the meanwhile, let's dig into this week's free heroes alongside the team's commentary.
Starting off, Mitch offers us some words with feeling:
Erik shoots pellets,
Olaf can't fit in his shirt,
Baelog's sword can hurt.
And now, the moment you've all been waiting for, the pride of the Nexus: this week's rotation!
Assassins
Butcher — check out our guide to the Butcher
Kael'thas — check out our guide to Kael'thas
Anna: I find it a little funny that one of the hard counters to the Lost Vikings is also on rotation this week. With his AOE, Kael'thas can take out grouped up Vikings fairly easily, and with Gravity Lapse and his other DPS he can completely wreck a solo soaking one too. The one thing to be careful of is that the Vikings' big body blocking lane presence can make it tough for Kael to get out of a team fight that's going south for him. As with all fragile assassins, your lane positioning is key to staying alive, especially since Zeratul is going to be lurking out there!
Unlocked at player level 12
Anna: So there's been some interesting shakeups where suddenly people are playing Zeratul again! This weekend's NA Qualifiers saw both teams earning themselves slots, Cognitive Gaming and Tempo Storm, using Zeratul. He fluctuates between very useful and very squishy, and in a deep dive comp he can cause a whole lot of havoc. He can be a bit squishy for a melee character, so using your E ability, Blink, at the right time is a must.
Specialists
Anna: I get the feeling that, since Lost Vikings are on rotation again after so long and will therefore be freaking everywhere, this is going to be the one week ever where people are super jazzed to see Sgt Hammer on their team. She's still one of my favorite heroes to play, even if she isn't competitive. I've found that she can be helpful for newbies, since playing her is a lot about your lane positioning and knowing where you can park your tank to attack relatively safely. She's also super sassy which I can appreciate.
Mitch: I'm surprised to hear Sgt. Hammer isn't competitive. She is one of my least favorite heroes to face. Her extended range and heavy siege damage makes her almost impossible to face as an Assassin until late game. Li-Ming may be one of the first Assassin counters I've seen that can counter her, mostly due to the excellent range on her spells. Otherwise, screw Sgt. Hammer and also I want her only on my team, no one else's.
Unlocked at player level 15
Mitch: I can only imagine how loud the sigh was at Blizzard when the team collectively decided that they had to put Vikings on rotation at least once in a 365-day period. This is almost definitely going to be another Abathur free week where it will be over and people will ask for it never to happen again. Only it may be worse. But hey, maybe we'll get some good facepalm compilation videos out of this week. My advice, as with most difficult-to-play heroes, is to practice in all-AI matches beforehand. It's been a while since I played Vikings and that's because the experience was pretty un-fun. But it's not all negative! Vikings, if played well, can soak all a map's lanes just by standing around. It makes them incredibly useful for grabbing XP (even in just one or two extra lanes) while the rest of your team focuses on map objectives. And honestly, Vikings felt like the absolute perfect fit for someone who plays a lot of StarCraft. They can be played with all three in one lane, or, more effectively, split across multiple lanes. The latter approach requires crazy amounts of multitasking that I just cannot handle, but a StarCraft player is likely very used to.
Liz: My guess is that this is a nod to Blizzard's anniversary. It was one of their first games… but we're probably all going to suffer for it.
Support
Unlocked at player lever 7
Anna: Brightwing is a decent newbie support since she heals just by staying close to her 'friiiiiends'. This can help you learn lane positioning, especially relative to your team. She's also our unofficial Blizzard Watch Heroes of the Storm mascot, so she has a special place in my cute but murderous little heart. She doesn't counter burst very well but can do a bit by using her Polymorph to take the pressure off and using Pixie Dust for a quick block. For Brightwing, you almost want to be mana starved. Just keep casting, then hearth and use your Z key to get back into the fray within seconds.
Mitch: Really, Blizz, just make Li Li free at this point. She's on free rotation too often to make even her low, low price point worth it. Also she may be more newbie-friendly than Raynor. Are you hitting buttons? Good! You've now effectively Li Li'd.
Liz: Blizzard doesn't have any permanently free heroes, but Li Li is definitely one of those that's on rotation so often she might as well be free. Why not make some of the newbie friendly ones available to everyone all the time? Then you've got something for new players to get started with and the rotation can focus on giving more advanced players some variety.
Warriors
Unlocked at player level 5
Mitch: I honestly never thought of this until reading a discussion on Li-Ming, but Arthas doesn't feel like Arthas. I enjoy him for what he is, but Li-Ming so perfectly embodies the Diablo Wizard that seeing Arthas in comparison is a bit sad. His freezes can be useful, but I wouldn't mind seeing him reworked a la Legion to be more focused on his "class fantasy," so to speak, and given a bit of a buff in the process.
Johanna — check out our guide to Johanna
If you need a starting point with any of these heroes, check out our Assassin guide, Specialist guide, Support guide, and Warrior guide for quick rundowns on each hero. This week's freebies should be going live this afternoon, so jump online to take advantage of them. And, as always, we'll see you in the Nexus!