Heroes of the Storm free hero rotation and sales for July 14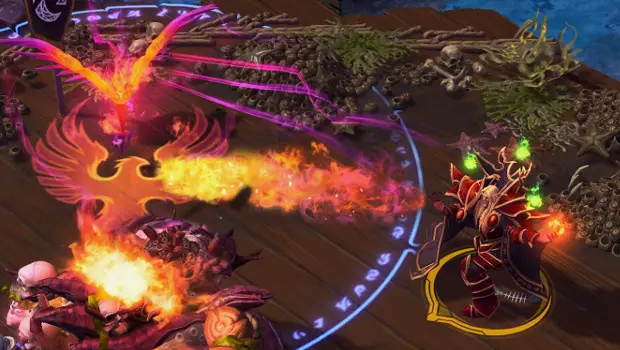 If you're just getting started with Heroes of the Storm, here's the deal: Every week there are some heroes you'd usually have to pay for that you can play for free in the free hero rotation, plus a number of heroes and skins on sale in the weekly sale. It's a great way to try out new heroes without committing to buy, as well as grabbing new heroes, skins, and mounts at bargain prices. This week we have Kael'thas on the free rotation, plus the Butcher should see a price drop (from 15,000 gold to 10,000 gold) today, making it a good time to pick up this melee assassin. (And if picking up the Butcher is on your agenda, you may want to check out our Butcher guide.)
So just who is on the agenda this week? Let's check out this week's freebies:
I polled our team of Heroes players to get some thoughts on what the rotation means for the week, and it involved a lot of all caps:
Matt: This seems like a real meh week to me actually. Kael'thas appears to be the lone, must-play hero as he continues to see constant play (especially in Hero league). Rehgar, Tychus, Diablo, and Li Li are considered fairly safe heroes to pick throughout your games. You can't really go terribly wrong with any of them. Blah. Difficult to get excited about this week. No one really stands out as a "HOLY I HAVE TO PLAY THIS WEEK BECAUSE X HERO IS FREE AND I NEVER GET TO PLAY THAT."

Mitch: Rehgar has been one of the more fun support classes, imo. And the sound he makes every time he chomps on someone from wolf form always makes me happy. Also, nothing will feel as rewarding/frustrating as his big heal that basically fills a player's whole health pool. It's got a delay, so it can sometimes be wasted on a hero doomed to die. As a whole, the Heroes may seem "meh" but they're also some of the cheapest ones to buy for gold or money, so it's a good time to test which ones you want to pick up to boost your roster and move into being able to do Hero League. And grenade-spec Tychus + his lazar of death can be a stats-topper if played right.

Matt: Did Gundam Tychus fall out of favor?

Mitch: I don't know if he has, I just know lazar is underrated. In short, YOU'RE SO WRONG, MATT!
If you need a starting point, check out our guides for Kael'thas (and, if you're buying him, the Butcher), then move on to our more general assassin guide, specialist guide, support guide, and warrior guide for quick rundowns on each hero.
If you're in the market for new heroes or skins, here's what's on sale this week:
This week's freebies and sales should go live on Tuesday afternoon at 2:30 PST / 5:30 EST — until then, we'll see you in the Nexus!