Space Lord Leoric crash-lands into this week's hero rotation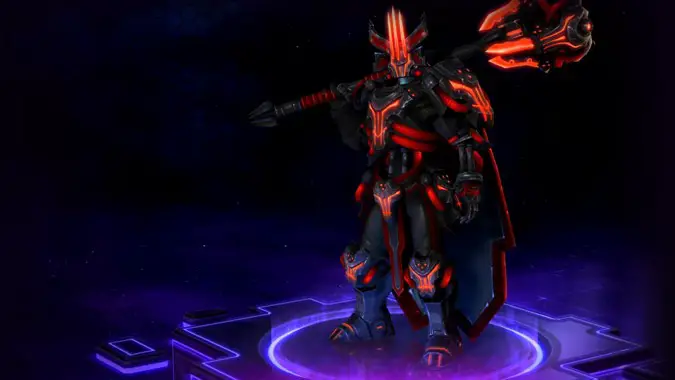 It's yet another new week in Heroes of the Storm, which means we have a fresh weekly hero rotation plus a new batch of sales. While everyone's excited about the upcoming heroes Li-Ming and and Xul, we don't expect either to arrive in the Nexus before next week — and because we've already gotten a Li-Ming preview, she'll probably be landing first.
But even without Li-Ming, there are a few things to get excited about in the Nexus this week. First, Genn Greymane will be getting a price drop down to 10,000 gold. (Not sure whether you want to pick him up? Check out our guide on Greymane!) And if you're looking for more ways to spend cash, Leoric's Space Lord skin should be available today, too. And, sure, a skeleton king's great, but a skeleton king from space is clearly way better.
So who will you be playing this week? Let's dig into this week's free heroes and sale heroes alongside the team's commentary.
Let's get down to the routine with a snippet of song (though it's up to you to guess that tune) from Mitch:
Uther, Uther, give me a heal or two,
I'm half dead now, Kerrigan just stunned you.
This game's going south quite quickly,
Illidan's chasing quite swiftly,
But it would be neat, not to be beat,
If Sylvanas can push on straight through.
And a counter-song, of sorts, from Anna:
For my poetry contribution this week just quote West Side Story but replace Maria with Sylvanas. She is my favorite. If you'd hold my Blizzard Watch High School notebook for a sec while I cram Mitch into a locker, you'd see 'Mrs. Anna Windrunner' doodled all over the back.
And now that we've gotten our high school squabbles out of the way (for now), let's jump into this week's hero commentary:
Anna: This week is heavy on heroes popular in the new competition meta, which heavily involves bruisers–either very healthy Assassins or damage-heavy Warriors who can jump into a team fight and stay alive. Sonya, Thrall, and Leoric are popular picks, while Kerrigan and Illidan also see play occasionally, depending on counterpicks and bans. Fortunately, one of the favored heroes to break up this team comp is also on rotation. Jimmy 'he-hey man' Raynor can stay back and harass while being quite healthy himself. I still think Thrall is a chump though.
Alex: Sonya, Kerrigan, and Sylvanas are, as always, my favorites in this rotation. Raynor, Muradin, and Leoric are all strong, but none of them really fit my playstyle. Raynor sees a lot of competitive play lately, and both Leoric and Muradin always find their way back into competitive play when the meta leans big and beefy.
Assassins
Unlocked at player level 15
Alex: There are people who play Illidan well, but I find he struggles more often than not.
Alex: Once you get Kerrigan's combos down, she becomes one scary force of destruction.
Raynor — check out our guide to Raynor
He's not on the rotation this week, but he is on sale for $4.99/€4.99/£3.69, with his Hellhammer skin on sale for $3.74/€3.69/£2.70.
Specialists
Anna: Gazlowe isn't a competitive favorite, but I've been finding him very useful for things like dropping his turrets on the points of capture maps, so the enemy has to deal with those before they can do The Thing. It's a great way to stall a cap, even from beyond the grave.
Alex: Gazlowe can be fun to play in quick match or against the AI, but it's sorta gimmicky and I think everyone who chooses to play him knows they're doing it just because they felt like it, not because he was the most effective character for whatever they wanted to do. And hey, if you just want to play Gazlowe — that's cool. Have a blast! Seriously. But if you'll be playing him for the first time this week, don't expect him to blow your mind or anything.
Unlocked at player level 7
Alex: Sylvanas is just plain fun to play.
Mitch: For the Forsaken! Sylvanas is a bit squishy but a VERY powerful lane-pusher. Her sugarplum skin is one of the best and she's just a lot of fun. She is a bit higher on the skill cap though, so I'd recommend some AI practice first.
Support
Alex: Of the support options available this week, I'm more likely to play Uther than Morales. Somehow, it always seems I end up in matches with three Support (or two Support plus Abathur) which can make for long, tedious matches. If you're a Morales in that situation, you get a raw deal, because Morales has no offensive build whatsoever. As Morales, you hope and pray the other Support will take their offensive talents to make up for the DPS deficit on the team. If you're Uther, though, you can go either way. If the other Support go offense, Uther is an amazing healer. If the other Support players want to stick with Support, Uther can be a strong (and disruptive) melee character.
Lt. Morales — check out our guide to Morales
Unlocked at player level 12
Anna: Morales is a very solid support, with lots of healing and stim drone being a favorite in the bruiser meta. However, this week I'm just looking longingly at that new Love Doctor skin!
Mitch: I hate Morales. Mostly because I am either on a team with a terrible one who can't do anything or am facing a pro who prevents me from killing anyone. And that's sort of her thing. She's a great single-target healer and works incredibly well if you're able to coordinate but a solo Morales in a random group can be deadly… For the wrong side. If Support is your thing, give her a try this week. If not.. PASS!
Uther — check out our guide to Uther
Warriors
Johanna — check out our guide to Johanna
She's not on the rotation this week, but her Centurion skin is on sale for $3.74/€3.69/£2.70.
Leoric — check out our guide to Leoric
Mitch: Leoric, despite his slow attack speed, is a very fun Warrior and his ghosty trait thing makes him pretty unique. But again, he's slow — the damage doesn't come in very often but hoo boy does it pack a punch when it does. And, as always, remember that his death count for full XP so be cognizant of where you're about to resurrect if you're ghost-ing around.
Unlocked at player level 5
Alex: Sonya is one hell of a bruiser.
If you need a starting point with any of these heroes, check out our Assassin guide, Specialist guide, Support guide, and Warrior guide for quick rundowns on each hero. This week's freebies should be going live this afternoon, so jump online to take advantage of them. And, as always, we'll see you in the Nexus!